Bonneville
On a grisly winter's evening, stepping off the Lower Clapton Road into The Bonneville – formerly the Elephant's Head – felt like being wrapped in a warm, cinnamon-sprinkled, velvet embrace. The dark-wood and scrubbed walls of the handsome bistro-style bar were low-lit by weeping candles and a beautiful stained-glass skylight, originally from the foyer of the Metropole Cinema in Victoria. Downstairs, the bathroom is a camply spooky Phantom of the Opera concoction, with dry ice and a metal door salvaged from Clerkenwell Prison.
Towards the back of the space, diners chatted on leather banquettes, while upfront bartenders whipped up a short and festive-forward menu of Christmas cocktails. Eat Hackney and I happily kicked things off with a perfectly balanced Clapton Christmas and the deliciously simple Chât de Noël.
Gorgeous little plates of smoked salmon, duck liver parfait, Jerusalem artichoke soup and braised short rib with pomme dauphinoise were appropriately warming, classic treats. We followed them up with a sparkly Shishi Bonnebonne (Frangelico, mint, lime and prosecco) and a smooth and rich hot buttered rum.
Orchestrating this cosy haven is owner Ruairi Gilles, who grew up in Bonneville, Belgium and, having spent a number of years in the bar and restaurant industry, decided to serve up his own little slice of Gallic gastronomy. Locally sourced ingredients are used to create traditional French-Belgian dishes – just like grandma used to make.
Cocktails are largely simple classics with fresh ingredients. The seven beers on draught include Bonne-Bonne and Jupiler, alongside local London brews and a comprehensive list of Belgian bottles. The majority of wines are organic/biodynamic and they also serve Belgium's Goldlys whisky.
Now that's my kind of hug.
by Sally Schafer
Recipes
Clapton Christmas
Make sure your shaker is completely dry. Add all of the ingredients and shake vigorously. Add ice and shake again. Strain over fresh ice into a glass. Dust with a little ground cinnamon.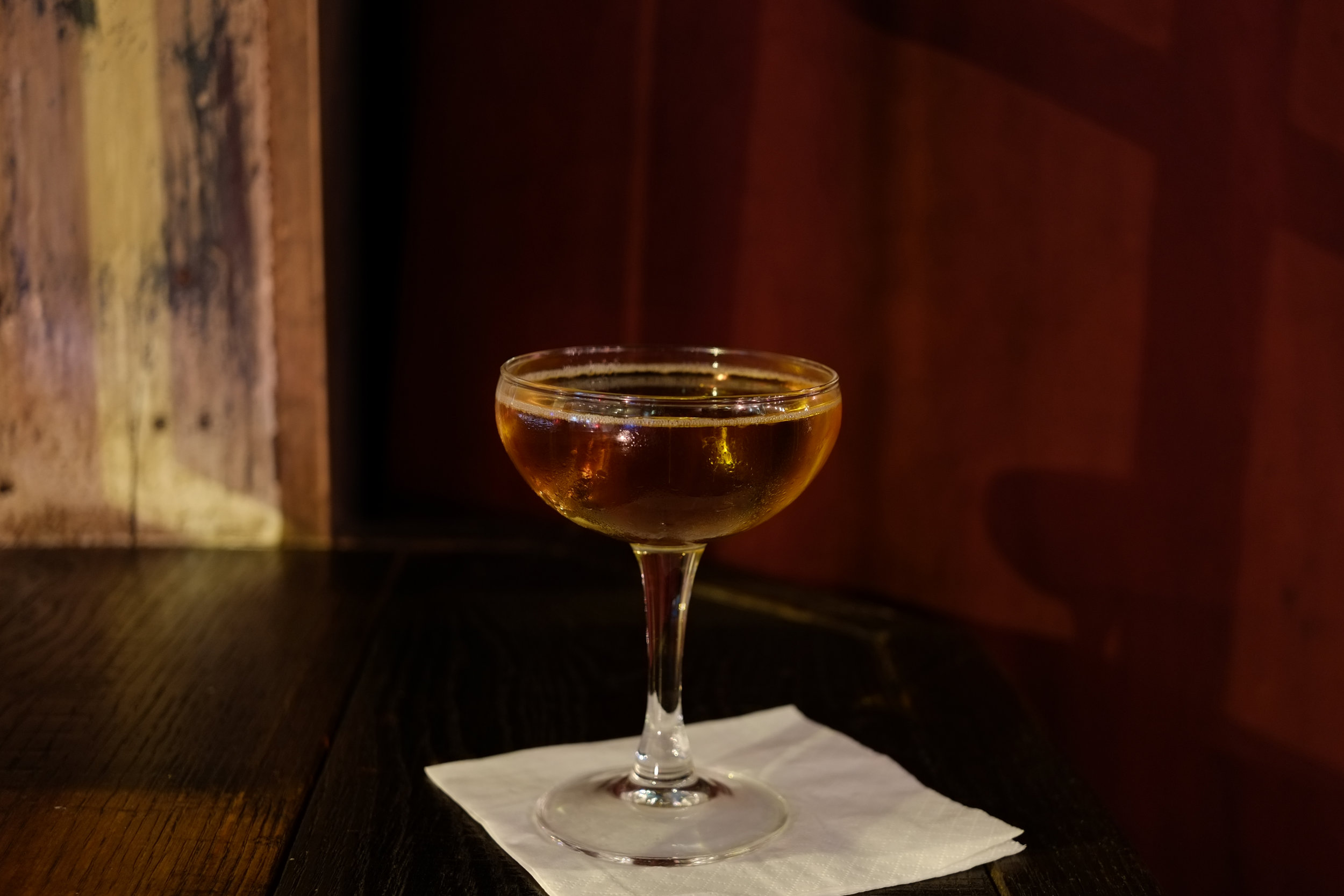 25ml Creme de Châtaigne topped up with champagne. Serve in an old-fashioned champagne glass and 'lift' the liqueur with a spoon (so not quite a stir).